Mystery.  History.  Quests.  Biographies.  Fantasy.  Facts.  Fairy kingdoms and ancient prophecies.  You'll find all this and more at the  
Cape Author Fest 
on
May 11, 2-5 pm.  
To learn more about any author/illustrator, simply click his or her name.  For more details about the event, click here.
What do dinosaurs, martians, blue jay pirates, and Flat Stanley all have in common?  Why, they've all been illustrated by Peaks Island resident Scott Nash, of course!  A man of dizzying creative prowess, Scott is sure to inspire and delight all the Pond Cove students when he visits our school for two days during Cape  Celebrates Literacy Week.  2012 marked his debut as a middle-grade novelist, with the critically acclaimed The High Skies Adventures of Blue Jay the Pirate.  Argggh! Best bring your eyepatch to the Author Fest!
Lynda Mullaly Hunt's first middle grade novel One for the Murphys is about a foster child learning to let down her guard when confronted with pure kindness from the Murphy family.  The voice of 12-year-old Carley is at turns guarded, funny, sad, and "undeniably affecting," according to  Publisher's Weekly.  
The book won Lynda ten awards nationally, including the Tassy Walden Award for Best New Voices in Children's Literature, 2012.   A storyteller with humor and heart, Ms. Hunt loves interacting with her readers and runs workshops for children's writers.  Besides joining the ranks of the Author Fest, Lynda will visit with Cape Middle School Students as part of Cape Celebrates Literacy Week.
Lea Wait is a Maine native whose fiction explores history.  Her website says it best:  "Lea Wait's novels for ages 8-14 are all set in the town of Wiscasset, Maine, with the exception of Seaward Born, which 
begins in Charleston, South Carolina, and then moves to Boston, Massachusetts, before – you guessed it! – moving to Wiscasset. In setting several stand-alone books in the same place but in different years, Lea shows readers how towns, and the ways people live in them, change over the years, although some problems young people deal with today, like bullying, they also dealt with in 1820 (Wintering Well) and 1838 (Finest Kind.)"  Lea also writes mysteries for adults.
Award-winning author and artist Pat Lowery Collins has books for the youngest children through young adult, and has written stories about everything from hide-and-seek to shipbuilding in 19th
Century New England.  Her latest book, Deer Watch, due out just in time for our Fest, is a picture book story of a boy and his father hoping to catch sight of a deer.  A celebration of the natural world and the joys of quiet anticipation, this one promises to appeal to Cape Elizabeth families.
The Portland Press Herald wrote that Susan Carlton's book for teens  Lobsterland, set on an island off the coast of Maine, "is like running across a green lawn with Fourth of July sparklers in each hand…the sparks fly in the mind of 16-year-old Charlotte… (it's) everything a good coming-of-age novel should be."  Her next novel, Love & Haight, set in 1971 San Francisco, was a Best Book for Young Adults by the Young Adult Library Services Association.  Susan also writes for Self, Elle, and Madamoiselle, and visits us from her home in Massachusetts.
Jean Mary Flahive's books are inspired by Maine history.  Billy Boy, inspired by a real person and an actual event, tells the story of a mentally challenged Berwick boy who excitedly joins up with the Union Army.   When separated from his hometown buddies, Billy runs off and befriends a runaway slave.  The two embark on the Underground Railroad to get themselves north to safety.   It was painstakingly researched by Flahive and provides a wealth of information about Mainers' roles in the Civil War.  Jean has two picture books as well, one of which she co-authored with her sister and beloved Pond Cove substitute teacher Judy Thyng!  Billy Boy is her first novel. We welcome her from Falmouth, and Judy will join her at the Fest, too!
 Stephen Costanza  is an author-illustrator of picture books as well as a semi-professional ragtime pianist.  His love for music and art is on full display in his own two picture books, Mozart finds a Melody and Vivaldi and the Invisible Orchestra.  He has illustrated books as well, and his magical, whimsical style is unmistakable.  Please do visit his website, where you can view slideshows of each of his books.  Beautiful!  Stephen joins us from Belfast.
We are so lucky to have the accomplished middle grade author Christine Brodien-Jones  joining us from Gloucester, MA.  She has two richly imagined fantasies out now. The
Owl Keeper tells the story of a frail boy, his friendship with an owl, and their quest to find the Owl Keeper to fulfill an ancient prophecy.  The Scorpions of Zahir takes readers on an incredible journey through the desert, weaving myth, adventure, and mystery into a tale, according to a Booklist review, that would make Indiana Jones feel right at home.  If you've ever dreamed of being a writer yourself, check out Christine's Why I Write section on her website.  Heavenly!
Megan Frazer Blakemore is the author of  Secrets of Truth & Beauty, a young adult novel about 17-year-old Dara, once crowned Little Miss Maine but now oversized and troubled by a family secret. Her brand new middle grade book is The Water Castle.  Set on a Maine estate common to both their family histories, it tells the story of a boy and girl who team up to solve the mystery of the Fountain of Youth.  Kirkus says, "Weaving legacy and myth into science and magic, old into new and enemies into friends, Blakemore creates an exquisite mystery."  Megan is a school librarian in addition to her career as a writer.  **This just in:  The doyenne of children's literature critics, Elizabeth Bird (Fuse 8 blog, SLJ), just picked The Water Castle as a frontrunner for the '14 Newbery Award.  Hats off, Megan!
Among many accolades, Mary Morton Cowan 
won the 2010 National Outdoor Book Award in the Children's Category as well as the 2010 John Burroughs Association Outstanding Nature Book for Young Readers for her biography of Captain Mack, the Life of Donald Baxter MacMillan, Arctic Explorer.  Timberrrr…A History of Logging in New England brings to life the rugged history of the British Mast Trade and the iconic lumberjack, and the importance of logging to the New England economy from Colonial days forward.  You won't be surprised to know that Mary's books are beloved by middle school teachers everywhere.
Multi-talented illustrator Hazel Mitchell was born in England and came to Maine in 2000.  Lucky us!  She's illustrated numerous books for children featuring everything from cowboys to cheerleaders, ugly ducks to lighthouses.  The widely lauded How to Talk to an Autistic Kid by Daniel Anofski ("An Autistic Kid") is illustrated by Hazel and won many 2012 awards, and her new book, 1,2,3 By the Sea is a perfect summer picture book for young children.
Marty Kelley is a New Hampshire-based picture book author-illustrator with a job history that includes second grade teacher, heavy metal band drummer, and balloon delivery guy.  He's written and/or illustrated seven books so far, the most recent being Crustacean Vacation (written by Brian Benoit) and  his own Fame, Fortune, and  the Bran Muffins of Doom.  Do I need to add he's a guy who likes to make audiences laugh?
Ellen Booraem writes novels where the realism is touched with more than a little magic and middle grade humor.  In her latest, Small Persons with Wings, 13-year-old Mellie's family takes over an old inn which she quickly realizes is
overrun with fairies.  Ellen's upcoming novel Texting the Underworld (due for publication in August), features Conor, who encounters a banshee in his room that insists on accompanying him to middle school.  Small Persons with Wings earned "Best of 2011″ status from  Kirkus Reviews, Publishers Weekly, and The Washington Post, among others. Ellen grew up in Massachusetts and now resides in Maine.
Gail Donovan writes chapter books for children including In Memory of Gorfman T. Frog, a New York Public Library Best Book for Children, and What's Buggin Bailey Blecker, a
Horn Book back to school recommended title.  She has also authored several picture book series adapted from bestselling books, such as Rainbow Fish and Little Polar Bear.  Gail grew up in Connecticut but summered in Maine, and is a full-time resident now.
Ed Briant has written and/or illustrated ten books since 2004, his latest being I am (Not) the Walrus, a rock-and-roll YA novel set in England about a boy named Toby, his first gig in a Beatles' cover band, his first love, and his older
brother's Fender bass guitar, which actually may be stolen.  Ed writes a comic for Publishers Weekly's "Children's Bookshelf",  and has published illustrations in The New Yorker, Rolling Stone, and The Atlantic, to name a few.  He's even done animation for Sesame Street!  It's exciting to have him join our Author Fest.
Bryce Moore's Vodnik, a mythic fantasy adventure based on Slovakian folklore is his first novel published by a mainstream publisher.  For teen boys especially, Vodnik tells the story of a sixteen-year-old Slovakian boy whose family has just returned to their home country after ten years living in America.  A specter from Tomas' childhood reenters his life, and soon Tomas finds himself in a struggle for survival.  Consider this snippet of text: Teacups: great for tea. Really sucky as places-to-live-out-the-rest-of-your-eternal-existence. Very little elbow room, and the internet connection is notoriously slow. Plus, they're a real pain in the butt to get out of, especially when you've gone non-corporeal.  Bryce is a librarian for the University of Maine system.
Laurie Jacobs' latest picture book is Silly Frilly Grandma Tillie, and it won the Gelett Burgess Children's Book Award last year.  The award honors family-friendly books that encourage healthy emotional development. And what could be healthier than a congo-ing grandma?  Laurie's other picture
books are A Box of Candles, winner of the 2005 National Jewish Book Award For Family Literature, and So Much in Common, her debut about a hippo and an antelope who have nothing in common except friendship.
Look!  In the sky!  It's a bug!  It's an alien!  It's…Cape's own Beth Cadena, able to leap Portland Head Light in a single bound!  Beth's irresistible picture book Supersister is a story for expectant siblings everywhere.  The energetic main character spends her day doing superhuman feats for her family.  Bold, colorful artwork pops off the page.  In the end, Supersister empowers young readers by showing them she can be a heroic helper as her family welcomes a baby into their home.
Maria Padian adds yet another accomplished author to our line-up.  Her 2008 debut novel, Brett McCarthy: Work in Progress, the tale of a high school prank turning a girl into an overnight loser, made the American Library Association "Best Books for Young Adults" list for 2009, as well as the Maine Literary Award for Children's Literature and the Lupine Honor Award from the Maine Library Association.  Since then, she's written two more novels, Jersey

Tomatoes are the Best, about two supreme high school athletes and the pressures of surviving almost-theredom, and Out of Nowhere, the story of a high school soccer star in a small Maine town and his new
Somali immigrant teammates.  Maria lives in Brunswick.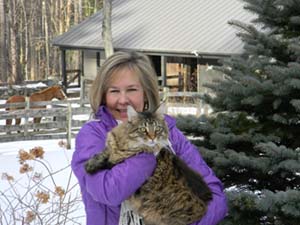 Jeannie Brett started illustrating children's books about ten years ago and already has over a dozen nonfiction titles to her credit, on topics from Maine Coon Cats to the Mayflower.  Now she can add author-illustrator to her resume with her new book, Wild about Bears, due for publication in 2014.  Many of Jeannie's books have Maine themes, and you'll recognize them if you've ever visited L.L.Bean's book store!  She is indeed a Mainer, and we're fortunate to call her our own.
Jamie Hogan is the illustrator of many award-winning children's books on topics from lobstering to global warming.  The 2008 Rickshaw Girl, written by Mitali Perkins, earned a spot on over ten best picks lists
nationally that year.  So much of Jamie's illustration draws on her love for the natural world, and particularly Maine.   She is the author-illustrator of The Seven Days of Daisy,  and just so happens to have a daughter named Daisy.   Her work has appeared in Maine Magazine, the LA Times, and as jacket or interior art on many adult titles.  She, Daisy, and her husband live on Peaks Island.
Joyce Shor Johnson's middle grade novel The Casting is set in 320 AD Ireland, based on a girl hoping to defy convention and follow her father's lead as a master bronze caster.  Her new young adult novel finds Sharon, a Jewish teen from the Bronx in 1961, caught between the conservatism of the fifties and the turbulence of the sixties as she spends a summer in the Catskills, falling for a non-Jewish boy.  Joyce's poetry appeared in the Poets' Guide to New Hampshire (2010).
Carol Gordon Ekster writes picture books focused on the emotional needs of her audience.  Where Am I Sleeping Tonight? is a sensitive story about the adjustments that come with family change.  Ruth the Sleuth and the Messy Room follows Ruth in her quest to find Mom's pot holder in time to have cookies with her friend.  Carol is also part of the British "Smories" project, original stories for kids, read aloud by kids, and accessible on iPhones and iPads.  I love hearing Carol's Making the Team, about the trials of not making it, read by a little girl with an English accent!  Have a listen.  Carol is a life-long teacher and comes to us from NH for the Author Fest.
Laura Pauling writes middle grade and young adult fiction about spies, murder, and other intrigue.  How to Survive Ancient Spells and Crazy Kings features cousins Bianca and
Melvin, on vacation at the Mayan ruins, and finding an ancient city where people haven't aged in 2,000 years.  It's all fun and games until the king wants to sacrifice Bianca.  Laura has written two young adult spy novels, A Spy Like Me and the sequel, Heart of an Assassin, starring Savvy, who dodges a bullet on her first date–literally.  Laura joins us from New Hampshire.
New Hampshire humorist Rebecca Rule has been collecting stories and entertaining audiences throughout the Granite State for over fifteen years.  She hosts the interview show "The Authors Series," which airs on New Hampshire Public Television and performs live all over the state, often sponsored by the New Hampshire Humanities Council.  Becky is the author of numerous books capturing the essence of her home state as only a native can (see Live Free and Eat Pie: A Storyteller's Guide to New Hampshire).  Her latest, and thinnest, book to
date is The Iciest Diciest Scariest Sled Ride Ever!, a tale bringing delight to anyone who revels in making New England winters as fun as possible.  If we're lucky, Sled Ride's illustrator Jennifer Thermes
will join Becky and us for the author fest.  Jennifer is an author-illustrator from Connecticut with a specialty in map illustration and warm colors that make you want to jump into the worlds she creates.
Doreen Tango Hampton's first picture book for children is I Like Gum, a rhyming story detailing a girl's likes and dislikes.  Comical, with boisterous illustrations (by Gina Pfleegor), it's a joyous read aloud or read-alone for new readers.  Doreen fell in love with children's books through her work as an antiques dealer, where she discovered antique books for children and has been collecting ever since.  Doreen will travel from Connecticut to join our Author Fest.
Marilyn Taylor McDowell's debut middle grade novel, Carolina Harmony, made Booklist's Top Ten Historical Fiction list for children in 2009 and received starred reviews to boot.  Set in the North Carolina mountains in the early 1960s, it's the story of an orphan and runaway named Carolina, who is resilient in spite of more than her share of misfortune.  Reviewers praise Marilyn's interweaving of racial friction among Cherokees, slaves, and immigrants through secondary characters, creating a great snapshot of history for young readers.  Marilyn's writing is influenced by her years as a librarian, storyteller, and teacher.  She'll join us from Vermont.
Once you see New Hampshire author/artist  Jennifer Carson's work, you won't be surprised to learn that she grew up "on a steady diet of Muppet movies and renaissance faires."  She designs and creates her own soft sculpture fantasy creatures– dragons, elves, fairies– and her latest middle grade book, Hapenny Magic, tells the tale of a tiny Hapenny (member
of a race of small folk) named Maewyn whose home is threatened by Hapenny-eating trolls.  When she isn't creating creatures, 3-D or in her stories, Jennifer is an editor for Spencer Hill Press.
Jessica Kinney is a Maine native whose first picture book, Pig Scramble, captures the essence of  life on a New England farm and what a highlight the county fair can be for farm
children.  Clarence, the youngest of three boys, finally has his chance in the fair's pig scramble: a contest where a pack of kids chase a pack of piglets around a pen.  The first child to catch a pig wins it.  The book was inspired by Jessica's husband, who grew up on a dairy farm and indeed won a pig.  You can tell she wrote this one with lots of heart!
Ansha Kotyk  mixes history and fantasy in her first book, Gangsterland.  Comic book aficionado Jonathan finds himself transported into the pages of one of his comics, right
 into the middle of the roaring Twenties– complete with gangsters, flappers, and a murder mystery.  It's an adventure sure to suck in its target audience of readers age ten and up.
Brenda Reeves Sturgis is the author of Ten Turkeys in the Road, a "deliriously silly" (Kirkus Reviews) rhyming book about ten turkeys that won't get out of the road.  It's a sure thing for laughs and a fun book for parent/caregiver read-
alouds.  Brenda has two more picture books upcoming, too.  Watch for No Fun in the Sun for Santa and The Lake Where Loon Lives.
Nicole Fazio is an illustrator based in Portland.  She has three books out now:  Down East in the Ocean- A Maine Counting Book, Journey of the
Sea Glass, and My Maine, the last of which features an illustration of Portland Head Light.  Nicole loves creating illustrations that captivate children and parents alike.
Cathryn Falwell
, author and illustrator of numerous books, many of which have a nature/ecology theme.  Her artwork is stunning!  In addition to coming to our Author Fest, Cathryn will be joining up with Maiden Cove Children's Center and CELT to lead an exciting book walk through Robinson Woods on Wednesday, May 8th, at 4:30-5:30.  Pages of Cathryn's book  
Scoot
will serve as a trail map, actually posted on trees through the woods!  
Scoot
tells of a high-spirited romp by a pond, with all its attendant wildlife.  This promises to be a memorable walk, indeed!
Anne Sibley O'Brien
creates socially conscious books that celebrate our multicultural world.  An illustrator by trade, Anne has collaborated on dozens of books and has
written and illustrated solo on several titles as well.  She's won several awards for her work, including the Maine Martin Luther King Community Service Award (Arts & Literature category) and the Asian/Pacific American Award for Literature.  Anne lives on Peaks Island.
Liza Gardner Walsh
is the author of
The Fairy House Handbook.  
It's the perfect book to inspire hours of creative time in the woods– behind your house or on a Maine island somewhere.  Liza is a librarian in Rockport and lives in Camden, both notable fairy hotspots.